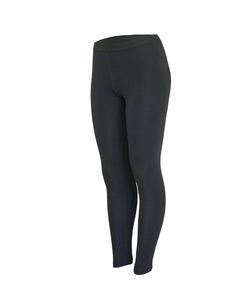 50% Polyester

Lightweight (150g = 5.3 oz.) breathable Merino wool blend leggings perfect as base layer bottoms.

High Merino wool content. The wool features high moisture absorption, ensuring a pleasant feeling on the skin.

Made of Merino wool blend jersey fabric (50% Merino Wool, 50% Polyester) according to OEKO-TEX STANDARD 100. Polyester in blend with Merino wool complements characteristics of pure wool. Garments are resist wrinkling, retain shape, and resist pilling. They are also more strong and durable.

Mid-rise. Slim fit. Soft and comfortable elastic waistband. Designed as a Mid-layer. Lightweight and suitable to be used as an undergarment.

A wonderful insulating must-have piece for cooler days. Wrap yourself in a luxury, you will love it.