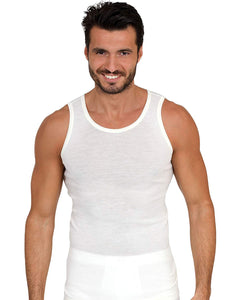 SUPER SOFT and LIGHTWEIGHT Sleeveless Shirt made of 40% Merino Wool 60% Microfiber. Microfiber in blend with wool complements characteristics of pure wool. Garments are resist wrinkling, have a luxurious drape on the body, retain shape, and resist pilling. They are also more strong and durable.

Merino wool microfiber blend feels gorgeous next to the skin, breathable and comfortable to wear. Ideal for sensitive skin.

Unique production technology, tubular knit fabric, pleasantly stretchy and seamless on the sides.

Wrap yourself in a luxury, you will love it.

100% Proudly Made in Italy according to OEKO-TEX STANDARD 100.